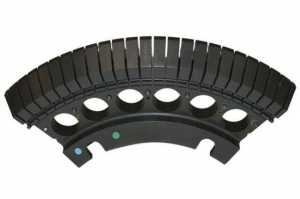 High quality machining in Toronto begins long before the mill touches the metal. Indeed, quality machining in Toronto is a process that starts from the moment the client comes into the shop with their requirement.
For machining in Toronto to be done right and the finished part to exceed the client's expectation it takes an investment in plant, processes and people.
It may not seem obvious, but quality machining begins with the fabricator knowing its equipment and its capability before committing to a project. Before the job is accepted and a quote prepared, the shop's ability to manufacture the part should be confirmed. An over-commitment by the fabricator or unrealistic expectations of the customer are both likely to lead to dissatisfaction at the end of the project.
Similarly, quality is also a function of timeliness. A shop that is tied up with other machining Toronto projects and ought not to have taken on another project, knowing that it wouldn't be able to deliver on time, is doing neither the customer nor itself any favours.
Then ordering material becomes a high priority. With short lead times sourcing the right raw material can be a challenge. However, any compromises thereupon and the quality lacking will be reflected in the finished product. Quality testing procedures should be maintained to ensure that the raw material delivered meets the specifications expected. This includes the service provider for machining in Toronto checking composition, hardness and reviewing any certifications.
Machining in Toronto should begin in earnest only after the fabricator is absolutely satisfied with the material and the tools it has.
Once the milling, grinding and sanding are done, machining in Toronto is not quite done. Quality inspections are equally critical aspects of part fabrication. Checking for any alteration in the metal after welding and any unintended heat treatment are important quality checks. Finishing and specification matching with those provided are quintessential. Till the finished part is delivered to the client, the machining Toronto services provider can hone the piece till such time as it is satisfied.
If paint or coatings are to be applied to the machined part, these need to be applied very carefully, making sure to protect the machined aspects of the part.
Paperwork is an essential aspect of machining in Toronto. No job is complete without a complete specification handover to the client; though that depends from client to client and the complexity of the part. Details of the part and any instructions pertaining to the part, paint specifications and more are handed over to clients too.