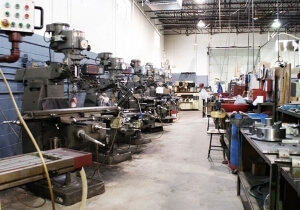 We'd like to use this blog as an opportunity to give our current and potential customers a look into the history and mission of our company.
Our History
Our machining shop has been in operation since 1978. While our technology and techniques have evolved over time, our core aims have remained the same. We strive for accuracy and efficiency, which has made us a trusted shop for precision machining in Toronto. Our goal as a business is to give our customers a competitive edge with parts that can be fully customized to suit their specific needs.
As a company that specializes in the manufacturing and assembly of custom machine parts, we aim to be versatile so we can serve a wide range of industries. We are based in Toronto as it is an ideal location for connecting with customers working in industrial sectors across Canada.
Our Current Capabilities
In order to uphold our commitment to manufacturing our parts to our customers' precise specifications, we have heavily invested in our facility equipment. We have a long list of machinery we use in our operations, for the purposes of cutting, lathing, milling, grinding, welding, drilling and CNC machining. We have both conventional and CNC machining capabilities, and we recognize the need for advanced technology to perform precision machining in Toronto. Precision is key when it comes to the manufacturing of machine parts, and the parts we produce are only as good as the equipment we use to make them.
Our Focus on Precision
Any piece of industrial machinery must function reliably to maintain a facility's operations. Precision machining in Toronto is required for ensuring that parts are manufactured as accurately as possible according to their designs. The use of this form of machining also allows for a greater level of customization. Our CNC equipment is useful for this purpose, as it can work with custom designs and produces quality parts consistently through automated processing.
At RWD Tool and Machine, we provide our customers with only the highest-quality parts through CNC and precision machining in Toronto. Our facility and staff capabilities are unmatched, and we are able to take on projects of any level of complexity. Contact us today for consistent, quality machining services in Toronto!