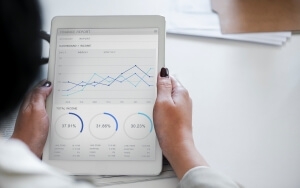 The industrial machining industry is vital to human technological and infrastructure growth. Manufacturing equipment to support the advancement of large-scale construction projects as required for a wide and varied range of industries have necessitated the development of the industry to push past conventional traditions of machining into new territory. Your typical machine shop in Toronto is just as susceptible to variation and changes in industry demand as large-scale manufacturing enterprises. One way to actively address the uncertainty of navigating through new consumer demand is by assessing industry trends. Today we'll assess industrial machining trend projections for 2019.
Improved Efficiency and Production Transparency
Consumers demand improved efficiency and production transparency when it comes to manufacturing products. As the machining industry expands, engineers adapt technologies to consumer need. The result is improved equipment in smaller-scale machine shops in Toronto and within the industry globally. Regulated practices and eco-friendly initiatives are also becoming the norm – in which decreased waste and little environmental impact in the machining process is optimal.
Increased Demand for Machine-Tooled Products
The demand for machine-tooled products is largely the result of a positive consumer outlook in the global economy since the economic slump of the previous years. CNC manufacturing is expected to increase in demand across almost all industries in 2019, also serving to drive a need to fill manufacturing jobs internationally.
Additive Manufacturing
The machining industry is just as susceptible to the evolution of technological innovation prevalent across almost all industries. New expectations about the ways in which machinists operate equipment involve the demand for more automated user-experiences to ensure precision and uniformity each time. With this in mind – we have noted the implementation of more touch-screen control in companies that manufacture CNC machining equipment. Touch-screen controls allow for quicker and easier pre-programming of the machinery and tools for 3D cutting purposes.
Maintaining the status quo: Popular CNC Materials
While the above trends are relatively new ways of understanding the growth of the machining industry for this year, other aspects of the industry will likely remain fundamentally the same. Practically all materials with adequate hardness can be CNC machined in most machine shops in Toronto, however the conventionally popular materials manufactured in the machining process are still the same. Aluminum is still the most widely manufactured material with 54% popularity, in comparison to stainless steel (6.8% popularity), and delrin (5% popularity).
While the machining industry evolves it is important to take note of what is occurring by assessing consumer demand. Examining the impact of these changes in both large-scale machining enterprises to smaller-scale machine shops in Toronto can help those invested within the industry to make more informed decisions and be better prepared for the future of the machining industry as a whole.