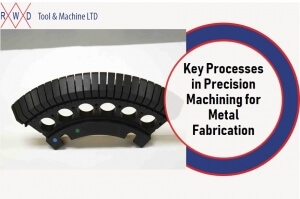 The removal of superfluous materials so that we can "trim the fat", so to speak, and get to a finalized, working product that performs as intended is a necessity for numerous manufacturing industries such as biomedical, aeronautical, and metrological. Needless to say, this burden falls under what we call precision machining – without this, highly specialized and crucial machinery for sectors such as these would not be capable of functioning as intended.
Consequently, it becomes readily obvious why precision machining in Toronto is held to such high standards across all the processes involved.
We will outline some of the procedures typically concerned with metal fabrication projects so as to better understand how expert machinists work within very particular specifications:
Milling
The removal of extraneous materials from a workpiece can be conducted through a machining process known as milling. The milling of projects for precision machining in Toronto is accomplished by using a rotary cutting tool that is installed onto a spindle which revolves simultaneously around an axis – it is the head of this cutting tool which allows for removal of the material through numerous small, separate cuts.
Lathing
Lathing can be used to perform a multitude of operations on your workpiece such as sanding, facing, and turning. This machining process is best suited for long, cylindrical workpieces. It works by rotating the workpiece, held within a dedicated clamp known as a chuck, around a predetermined axis of rotation and feeding the cutting tool either at parallel or at right angles to this axis.
Grinding
A more abrasive approach for the removal of unwanted material in the machining process is through a grinding wheel. The shear deformation that occurs on the workpiece allows for applications which involve achieving a highly smooth surface and accurate dimensions on the material.
Boring
Boring can be conducted through specialized boring machines or mills, and more general-use machines such as a lathe or milling machine. The boring process is carried out when your goal may require expanding an existing hole, providing greater accuracy for precision machining in Toronto.
Getting the Right Talent Involved
For precision machining in Toronto, look no further than RWD Tool and Machine. Having fabricated 100% custom-built items for over four decades for our extensive back-catalogue of clients in diverse industries, we know what it takes to adhere to strict internal and external quality standards.
From the assembly of shafts, bushings, standoffs, or inserts, our CNC machining allows for precision machining devoid of human-error through reliable and identical manufacturing, all within a fast development cycle! Speak with us today and speak to one of our qualified experts to help initiate your project.