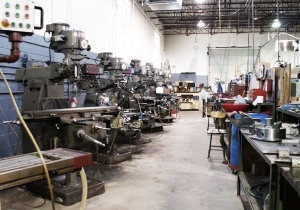 At RWD Tool, our machining services in Toronto create a variety of projects for various industries, such as 2D or 3D outfits. All of the machines are meant to produce quality work for various industries. Whether the task is for industrial, commercial or household purposes, CNC machining is the most efficient machining service. Specialty machining offers excellent tools that meet the expectations of many industries, while exhibiting its high levels of functionality.
Our machining services in Toronto can be used for the following applications:
Commercial designs and signs
There are various designs that have continued to impact the commercial industry. The most common designs are crafted through CNC machining. CNC machining services can create a high-end logo or an office front. Machining services in Toronto will produce proficient and intricate work that requires precision and accuracy. CNC equipment is beneficial for creating appealing, sophisticated and modern commercial designs.
Industrial outfits
Industrial processes and projects must be customized to the client's specifications. Our machining services in Toronto can be used to create furniture, building and commercially designed industrial outfits. When these products are crafted, high precision and continuous prototyping is exercised during all levels of operation.
Household facilities
Not only do machining services in Toronto design industrial and commercial outfits, CNC machining also designs household equipment and facilities. Common products that are available for household use designed by CNC machining range from aesthetic facilities to daily-use items. An example of an item created through the process of CNC machining is food packaging equipment. CNC machining is controlled by a computer program, which means that its results will remain consistent. The products will not have any visible errors because the computer operated system always delivers dependable results.
RWD Tool provides advanced CNC machining services, which designs products that meet precise and accurate measurements and requirements. At RWD Tool, we are committed to producing quality products that are durable, reliable and high-functioning. We are a leading machining service in Toronto and exhibit exceptional customer care and services. Contact us today for more information about our machining services.