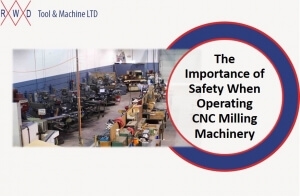 CNC mills are primarily designed for the removal and shaping of a workpiece, with most of this executed by a rotating tool mounted inside a spindle; however, CNC mills are notoriously versatile in their operational capacity and can serve more of a general purpose in a machine shop.
Minimising incidents that can cause personal harm, and damage to the machine are paramount in the operation of any shop, especially when carrying out CNC machining in Toronto.
For these reasons, it is recommended for staff to always follow safe machining practices when running unfamiliar programs.
Technicians are exposed to a multitude of hazards that they keep cognisant of during the operation of CNC machines, such as:
Rotating cutting tools
Noise
High voltage electricity
Belts and pulleys
A number of doctrines are outlined and implemented in a facility such as ours in order to put safety at the forefront of operation when CNC machining in Toronto.
Ample Visibility
Illumination of the workspace is critical to the safety of the operator when machining. This includes the operators work area and all angles of the machine requiring the possibility of needing to be accessed during routine maintenance or cleaning.
Lighting placement should be sensible and should not obstruct or glare the operator's eyes as this has been known to lead to preventable accidents in the workplace.
Monitor Your CNC Machines
Some CNC machines, like the Haas VF series we use here at RWD Tool in our machine shop, are intended to carry out their functions without the presence of an operator. This, however, does not ensure that your machining process, determined by the shop owner, is safe to function unmonitored.
Monitoring tools can be seamlessly installed by a specialist into the ecosystem of your CNC machining in Toronto. For example, a set of unsafe conditions can lead to a fire during the machining of a workpiece; a fire suppression system is designed to instantaneously detect and remedy this problem, preventing the hazard from causing more serious afflictions.
More information surrounding the operation and safety surrounding your Haas CNC Mill can be found in the Mill Operator's Manual.
While this list serves to merely elucidate the importance of safety surrounding CNC machining in Toronto, it becomes immediately apparent that a lack of training amongst staff can present a serious hazard to not only themselves, but also the facility.
Quality and Safety Go Hand in Hand
We've been fabricating, manufacturing and assembling tailored components across a variety of industries operating at an international level for more than 40 years.
We didn't get this far without delivering the best solutions out there when it comes to our ability in CNC machining - whether it be for turning, grinding, milling, and sawing. However, we are most proud of the fact that we can say our dedication to safety has never faltered, even as we operate on large scale projects in our fully equipped 15,000 sq. ft shop.