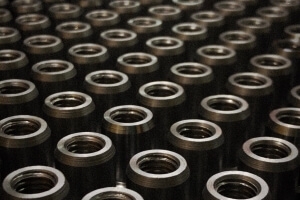 When it comes to machining, you'll want to be assured that your design will come to life in the way you imagined. Finding a machine shop with the right knowledge and experience can be difficult, but knowing the differences between conventional and precision machining can help you figure out how to proceed.
Ultimately, CNC machining and conventional machining methods offer the same goal – to fabricate a material into a specific part. Opting for conventional or precision machining in Toronto will depend on the scope and level precision you require. The method of precision machining is synonymous with CNC machining, otherwise known as computer numerical control machining. CNC Machining and conventional machining offer different benefits, but opting for one over the other will depend on what you hope to achieve with your design.
Today we'll go through the Key Differences between Conventional and CNC Machining:
Conventional Machining in Toronto
Benefits of Conventional Machining Methods
Conventional machines are more difficult to operate in comparison to precision machining in Toronto – and require highly skilled and knowledgeable operators to ensure project success and safety
The benefit of having highly skilled and knowledgeable technicians operating conventional machines is that they know their stuff – and you can rest assured knowing they have the experience needed to get the job done effectively and to your project requirements
Caveats of Conventional Machining Methods
Conventional machines cannot operate for more than a few hours at a time – requiring technicians to work quickly and effectively
Conventional machining methods are typically viewed as more difficult to operate and not as user-friendly as CNC Machines
As it takes longer to fabricate a part in comparison to CNC machining, the making of multiple parts will take longer by nature of method
Precision Machining in Toronto
Benefits of CNC Machining Methods
CNC Machines are able to operate for longer than conventional machining methods allowing for increased production and efficiency
Lesser skilled technicians can operate CNC Machines as they are more user-friendly, and the computer itself is automated in fabricating the project design
CNC Machining can be subject to software updates to further ensure accuracy, efficiency, and safety in the completion process of a design
Caveats of CNC Machining Methods
CNC Machining has very few caveats – largely due to the fact the machining process is automated – leaving little room for human error
Simple features may necessitate complex machining – unlike conventional methods, CNC machining may address seemingly simple tasks with more complexity – potentially because of software not being up-to-date
RWD Tool Offers Both Conventional and Precision Machining Methods to Bring Your Design to Life
Precision machining in Toronto includes a number of processes including and not limited to milling, lathing, grinding, boring, and welding. Many products require dimensions to be exact in order to ensure accuracy and functionality of the configuration the part is made for – making precision machining in Toronto an invaluable service.
RWD Tool and Machine offers both conventional and precision machining options for your project. Whether you need the knowledge of an experienced conventional machining operator, or require the precision offered by CNC machining – RWD Tool has got you covered!
Give us a call today to find out more – we'd love to bring your design to life!