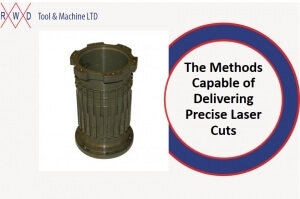 When requests come through for precision machining in Toronto, laser cutting ranks among the top for services in demand.
Laser cutting, a relatively modern technology developed in the 1960s, functions by focussing a laser beam, via an optical device, capable of melting and evaporating the material, and resulting in the desired cut. This machining process is known to be performed on numerous types of material, including metal, plastic, wood, composites, etc., and is well-regarded for producing characteristically high precision and quality products.
While the laser cutting process is usually conducted with an assist gas, there exist a variety of alternate methods when it comes to laser cutting, each with their own standards of quality on a variety of surfaces, which we'll look at below:
Laser Fusion
True to its namesake, parts to be worked on are fused together by the laser beam; this molten material then goes on to be expelled, at high pressure, through a nozzle by nitrogen due to its non-reactive nature - quintessential for the production of clean cuts on the material.
Laser Sublimation
This method, unlike laser fusion, is able to carry out laser cutting without the need for additional gas jet processing. Similarly, sublimation, the melting and vaporisation of a material, takes place over a single step rather than in a sequence of processes seen in other methods. Due to the minimised processing involved, sublimation is typically carried out with plastic materials in mind.
Laser Oxygen Cutting
Similar in vein to laser fusion in the sense that a processing gas is implemented within the laser cutting process. However, instead of an inert gas, oxygen – providing an exothermic reaction known as oxidation – is used instead and is applied, in particular, to steel for precision machining in Toronto. This method is not without its downsides; care must be taken to mitigate uncontrolled burning, and excess oxidation from occurring at cut surface.
Quality Controlled Precision Machining
At RWD Tool and Machine, we can proudly claim the dedication in expertise in our craft for precision machining in Toronto; with our employees working up to 30,000 hours on an annual basis, this has afforded us the time, and experience to confidently handle the fabrication of components for virtually any material, and industry, including parking garage meters, air and ground survey equipment, office furniture manufacturing, and many more!
If you're in the market for precision machining in Toronto for your project, get in touch with us as we always have an expert on hand to help deal with your request.