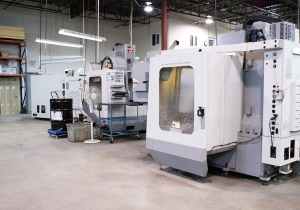 Conventional machining in Toronto is still a very common way of producing machine parts, even if it doesn't offer some of the advantages of CNC machining. At RWD Tool, we can provide both conventional and automated solutions in our modern machining shop in Toronto.
Conventional machining contributes greatly to employment and local economies. It also requires a solid understanding of engineering and mathematical skills. Modern fabrication tools allow for speed and big scale projects.
We take pride in being a modern and dependable machining shop in Toronto, employing both modern CNC technology and essential machinery like lathes, milling machines, drill presses and boring machines.
CNC machining boasts advantages in terms of fast cycle delivery, fast execution and easy repeatability of tasks as well as no human errors. Conventional machining does not fall behind, however, especially in the production of customized pieces. Custom pieces are ideally produced by conventional machining because constantly reprogramming CNC machines to produce various types of custom pieces is not time efficient. The work at our machining shop in Toronto includes turning, milling, drilling and other methods like burnishing, shaping, planning, boring, sawing or broaching.
Having conventional and CNC machining capabilities allows our machining shop in Toronto to offer comprehensive metal fabrication for any job. We can offer well-established experience and technical expertise to get the best results. This gives us an advantage in manufacturing custom pieces and parts as well as large projects with speed and precision. Conventional and CNC machining can be used for producing components for everything from parking garage meters, chemical analyzers, food packaging equipment to monitoring equipment, as well as parts for office and home furniture.
Regardless of the product or the part your enterprise needs, we can provide comprehensive machining options for optimal results. Contact RWD Tool to learn more today!