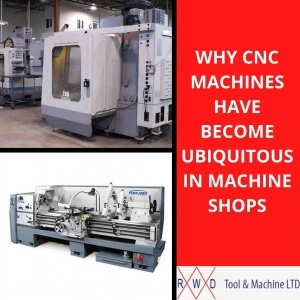 Ever since the development of Computer Numerically Controlled (CNC) systems, machine shops have been thriving and customers have enjoyed quicker and more precise workmanship on their products. Being a machine shop ourselves, RWD Tool & Machine has greatly enjoyed the benefits of CNC, producing only the best machine parts and components for our customers. If you are looking for CNC machine parts in Toronto to help expand your business' horizons, RWD Tool & Machine is the best option to help you produce the components you need.
It is understandable why CNC is in such great demand: machine shops can have higher flexibility, repeatability, and consistency thanks to this tech.
All this results in increased productivity and reduced costs, and of course, larger profits. Every machine shop wants to get their hands on CNC machine parts in Toronto to bring their operations to the next level.
Anyone who has ever seen a CNC machine in action knows that there are many components that have to work together in harmony in order for the CNC machine to work its magic. The data that is programmed into the system will control the many tools within the machine around a varying number of axes in order to cut material from a workpiece. As such, it is crucial that all these tools are of the highest quality, so as to not compromise the integrity of the CNC machine's work.
From the drive motors to the tailstocks, we at RWD are able to manufacture the most high-quality CNC machine parts in Toronto for various kinds of machining operations, across many different industries. CNC machines have found great use within the metal fabrication, automotive, electronics, and even agriculture sectors, where they continue to help industries maintain the highest standards of production.
For all your machining needs, and especially to acquire the best CNC machine parts in Toronto, look no further than RWD Tool & Machine – having served Toronto for more than 40 years, we know exactly what it is customers want when they are looking for custom machine parts. Rest assured, our facility full of different machines for different needs will be able to provide you just what you need.